A Week as an NFL Quarterback: Thursday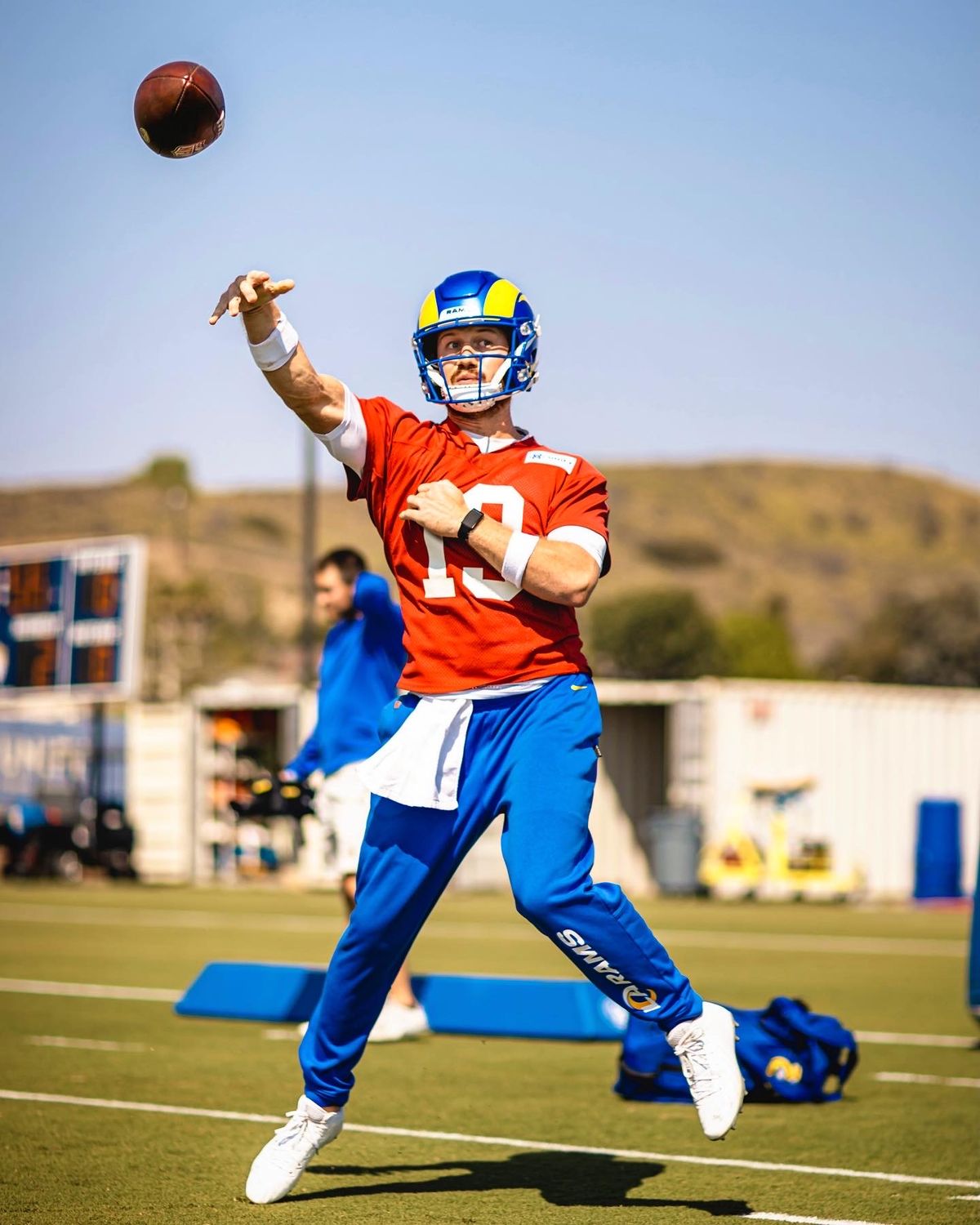 Thursday edges Wednesday as the hardest day of the practice week for an NFL Quarterback.
While this is my opinion, I would venture to say most comrades would agree. Bodies are sore from yesterday, practice is more intense, and more information is thrown at you. You must now know the normal down and distance plan, learn and retain the third down gameplan, and, on top of that, must devise a way to block some exotic blitz packages that can (literally) make your head spin.
This post will take you through all of the above and more. After reading, you should know what a Thursday is actually like for a quarterback in the NFL.
But first, a few notes to level-set before I begin:
For context, and so I do not have to redefine football jargon, I take the assumption you have read my op-ed about Wednesday as an NFL QB. If you have not read that piece, you can find it here.
On Thursday, most teams focus on the installation of the third down game plan and some incorporate redzone (we install redzone Fridays). Additionally, teams review, alter and add to the normal down and distance plan.
Every Thursday is not the same. Practice can start later or earlier, meetings can be cut in length or extended, my own personal schedule will change, etc. For this blog, I'm using a Thursday in mid-September from this year (2022).
"(Team)" in the screengrabs of my schedule means mandatory meeting/practice. If not parenthesized with "(Team)" then I am personally scheduling that activity.
This post avoids using proprietary Rams terminology and information. I would like to keep my job.
If you're interested in learning how to train, develop, and perform like an NFL Quarterback, join the waitlist below or check out kinetex.co. If you're interested in reading more posts on all things quarterbacking and throwing biomechanics, make sure to subscribe to the blog.
Morning
Here's a look at my morning schedule:
5:45-6:15 am
Play calls on the drive in: Similar to Wednesday, my drive to work entails throwing on my voice memos that cover the normal down and distance play calls. I am more familiar with the verbiage after spending a day on those calls, so I toggle "skip silence", and pull the slider to increase the speed.
6:15-7:30 am
Review notes, third down plays and film study: After a mind dump of information in Wednesday meetings, my notebook is chalked full of new material. I take odd notes as well. My notes consist of questions on the left side of the page, with the answers placed adjacently to the right, and a large space in between. I do this so I can cover the right side with my hand and quiz myself.
For example: On the left, "Who are their corners and what are their numbers?" or "What are their coverage tendencies on third and short?". I cover the right side and see if I know the answers.
After reviewing the notes, I turn my attention to the third down installation. I'll pop my head into my Quarterback coach's office and ask for the list of plays. This list has all the "cans" associated with each play and the anticipated formations we will use. I read it through, trying to envision the plays and retain the "cans", and then quickly record a voice memo of those calls for later.
Any film study in this block is either a buzz through of third downs again or a peek at the blitz cutup (I'll describe this later in the post).
7:30-8:00 am
Hip stability and breathing exercises: The weight room is subdued at this hour on Thursday's as I cycle through my hip stability exercises. Watch Aaron Rodgers or Tom Brady throw and you'll see that they use their hips extensively. I subsequently walk outside to get sunlight on my eyes and hit my breathing exercises. Afterwards, I grab breakfast from the team cafeteria which typically entails some eggs, bacon, fruit and a carb.
8:00-9:25 am
QB meeting: I stroll into the quarterback meeting room, backpack in one hand and water jug in the other. The focus of this meeting is fourfold:
Review yesterday's practice.
Go through the third down plays we anticipate using and the anticipated coverages.
Go through any additions and tweaks to the normal down and distance plan.
Go through the blitz cutup (again, will cover later in this post).
Our coaches do a great job of collaborating with us and this isn't your standard professor-student relationship. These meetings are interactive, with the quarterback's input always being taken into consideration, as we are the ones executing these plays live. We talk shop, cycle through those four points listed above, and walk out the door feeling better and better about the overall gameplan.
9:30-10:30 am
Regenerative lift: The same 315-pound giants that were smashing weights yesterday are now finding their Zen. We quarterbacks follow suit. Thursdays in the weight room are designed for recovery. Depending on the week, this recovery can be active (stretching, foam rolling, movement modalities) or passive (massage, compression boots, BFR). We walk in, find out the plan, and then are siphoned off by position to different recovery stations. We cycle through, which takes about thirty minutes, and then have the remainder of the time to focus on what we need. For me, that is either going back to the meeting room to study or hitting the sauna for recovery. My choice predicates on the complexity of the gameplan and how my body is feeling.
11:30-12:30 pm
Team and offensive meetings: The whole team matriculates into the meeting room at 11:30 with Sean McVay waiting to present. As an entire unit, we go through what it takes to win on Sundays, from special teams to defense to offense. I am always impressed with Sean's ability to scope into the details and out to the big picture in these meetings.
After roughly twenty minutes, that meeting wraps up and we all take a five minute break. The offensive line, running backs, and quarterbacks walk back in, snacks in hand, to have our blitz meeting. This meeting covers pass protection strategy for the most complicated blitzes we could see.
For example: It is a two high defense, with the nickelback standing eerily still hoping to go unnoticed (a nickel typically lines up over the slot wideout), he is capped by a safety and it feels like a nickel blitz. We need to send the protection to the nickel so the running back can get out on his route.
To get everyone on the same page: Liam Coen pulls up a cutup of their most complicated blitzes, he pauses each clip, and, as a group, we discuss how the o-line, running back and quarterback plan to block that blitz. Unfortunately for us, defense's blitz packages are complex and always changing, just watch clips of a Wink Martindale defense. Also for context, the above example is simple and is something we would spend two seconds on in this meeting.
Afternoon and evening
Here's my schedule:
12:40-1:30 pm
Walk-through: This walk-through is similar to Wednesday's, with the addition of third down plays. We cover those new additions, as well as rehearse some of the existing normal down and distance plays.
1:30-2:00 pm
Lunch/review practice script. Not hungry again, but I grab food nonetheless. I nibble at my lunch and review the practice plan for today.
2:00-2:30 pm
Pre-throw routine: I discussed this in the Wednesday post put as a reminder this routine works to:
Induce blood flow through the body and rotator cuff to prepare for high velocity throwing.
Ensure my throwing motion is properly sequenced.
Ramp up my nervous system to feel fresh on the practice field.
2:30-4:20 pm
Practice: I am running the scout-team offense against the first-team defense again. When the first team offense is up, I take mental reps. We practice the new third down plays, the existing normal down and distance plays and incorporate two-minute work. After practice, I get some extra sprints in to keep my cardio up.
4:20-4:40 pm
Post-throw routine: Face flushed, I grab my peanut butter, banana and protein smoothie and gulp it down. Broken record here, but just like Wednesday, I hit my post-throw routine. As a reminder this is designed to flush the tissue and re-stabilize the joints associated with throwing.
4:45-5:45 p.m
Redzone film study: I buzz through Thursday's practice and turn my attention to redzone. I watch film cutups of our opponent sequestered into two buckets: normal down and distance-redzone and third and fourth downs-redzone. For example, zero blitz, on average, becomes more prevalent in the low redzone (five yard line and in), regardless of down and distance, as teams have less vertical grass to defend and would rather force a contested completion than give up an easy touchdown run. Every team is different though, yada yada yada.
Night
Here's how my night shapes up:
5:45-6:45 pm
Dinner, review play calls: I hop in my car, plug in my phone and set course for Erewhon or Whole Foods. My voice memos include the most up to date plays in the game plan from first down to third down. I play those on the ride, and if my brain is not melting, I will ramp up the audio's speed and skip the silence.
6:45-7:45 pm
Hip and back mobility routine: I live in the guest house at Brian Allen's place (Rams center) and have lived with him and Michael Hoecht (Rams D-Tackle) for two years now. I mosey up the hill to the main house, lacrosse ball in hand, and plop down on the floor to see what the score is on Thursday Night Football. They are still working on the couch and I am on the ground with the lacrosse ball pressed into my hip as the game provides entertainment. I get particularly tight in my Quadratus Lumborum (QL/Lower Back.. my trainer taught me the term) and my hips from all the rotation in throwing. There is a set of modalities I do (stretching, myofascial release, and activation) that loosen up my hip and back, which keeps me on track to peak on gameday. If efficient, this takes about twenty or thirty minutes, but I take breaks and watch the game, hence the hour block.
7:45-9:00 pm
Downtime: If the game is close, I will stay in the main house to watch the finish. If not, I head back down and grab a book or call my girlfriend. Downtime is important, and I do my best to avoid ruminating about the game plan or the different blitzes we could see. I relax now, knowing I can worry about work tomorrow morning.
If you're interested in learning how to train, develop, and perform like an NFL Quarterback, join the waitlist at kinetex.co. If you're interested in reading more posts on all things quarterbacking and throwing biomechanics, make sure to subscribe to the blog.